101st Annual CMSA Convention

Resort Information
April 23–28, 2019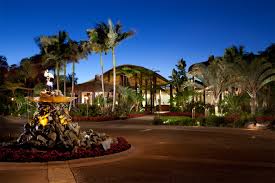 PARADISE POINT RESORT & SPA

The upcoming convention is being held April 23-28, 2019 at the Paradise Point Resort & Spa, 1404 Vacation Road, San Diego, CA 92109. The group rate cut-off date is March 25, 2019. Call Paradise Point at 855-463-3361 to make reservations and ask for the group rate for the California Moving & Storage Association.
CMSA Room Rate for a
Lanai Garden Room is $209 Per Night + Tax*
*Hotel rate is for single or double occupancy and subject to tax, currently 10.5%, applicable California Tourism Assessment Fee, which is currently 0.4%, and the San Diego Tourism District Assessment, which is currently 2%.
Paradise Point Resort & Spa is located on Mission Bay in the heart of San Diego and features bungalow-style guestrooms amidst lush, tropical gardens, tranquil lagoons, and one mile of sandy beach next door to SeaWorld. Scattered across its 44-acre island, you'll find plenty of room to roam and relax with five swimming pools, beach bonfire pits, a marina, five dining venues, an award-winning spa and endless recreation options.

The resort is centrally located; the airport, downtown San Diego and top attractions including Old Town, the San Diego Zoo, and Balboa Park are all just minutes away from its Mission Bay shores.
If you have any problems making reservations,
please call CMSA Manager Renee Hifumi at (562) 865-2900.

Updated: September 5, 2018